Medicine Buddha in Turquoise,BUD008,Buddha Statues,Buddha Idols,Dharamsala Dalai Lama,Buddha-Bazaar.com,Collectables,Indian Art & Craft, Dharamshala, Tibetan Herbs,Online Store, Shop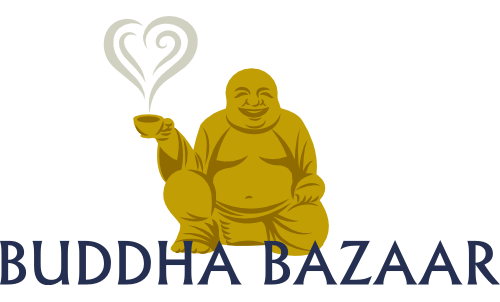 Shop for Instant Nirvana..!
---
ITEM CODE: BUD008
MEDICINE BUDDHA IN TURQUOISE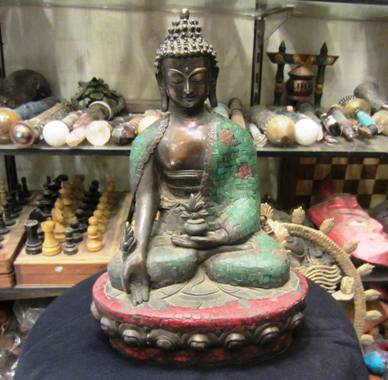 SOLD OUT
Product No BUD008, is the statue of Medicine Buddha in Turquoise(also known as the Healing Buddha) symbolizing good health and healing by curative tibetan herbs.
In the town of Dalai Lama Dharamsala, Buddhism is very much a way of life. Among Buddha-Bazaar.com Online Store Collectables in Indian Art n Craft, this statue is one of our finest figurines in Buddha Idols. The artist has handcrafted the Healing Physician's expression, complimented by the use of semi precious stones..blue turquoise, representing supreme purity and red coral for health.
The statue is a bronze figurine, carved by a Buddhist artist from Dharamshala, a product of his vision in our collection of Buddha Statues, Buddhist Idols n Tara Statues in Buddha Bazaar Shop.
The Medicine Buddha is shown holding in his, one hand the healing vase with herbs ; the other hand touching Mother Earth and holding the curative herb.
He is shown on a red coral lotus seat.
Product Description:
ITEM CODE: BUD008
MEDICINE BUDDHA IN TURQUOISE
*Shaded bronze figurine handcrafted in turquoise*
Height: 12 inches, Length: 08 inches.
Price: INR 22,000. (including shipping/delivery charges)
Shipping Time: Fifteen days to One month.
*Use the currency converter to view this price in your local currency.*
*To insert a specially priced Buddhist Healing Mantra Scroll (blessed by a High Lama) in the statue. (BUD008S)*
Price (Inclusive of Buddha Statue and Scroll): INR 28,000.
---