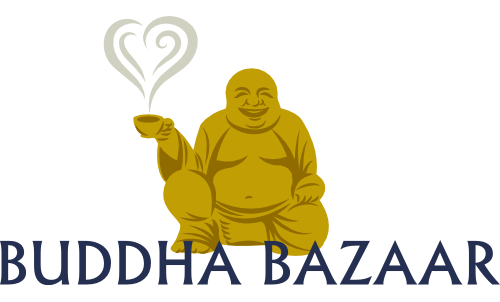 Shop for Instant Nirvana
---
ITEM CODE: BUD001
SAKYAMUNI BUDDHA GAO PIECE WITH TARA.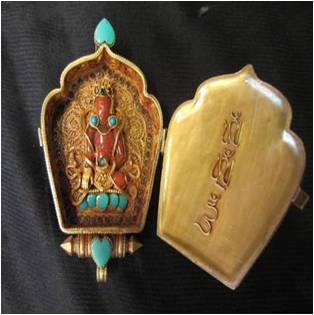 SAKYAMUNI BUDDHA IN RED CORAL INSIDE GAO PIECE WITH OHM INSCRIPTION AT BACK SIDE OF COVER.
Product no. BUD001 is a finely carved, hand made Gao with Sakyamuni Buddha idol in red coral inside.
A Gao is a tibetan style prayer box which holds a spiritual deity inside. Buddha Sakyamuni is seated on a turquoise lotus seat in a gold plated gao, intricately hand carved by buddhist artist.
The Front Cover has a Green Tara idol completely in semi-precious turquoise studded with red coral all around the border. The inside of the front cover has hand carved ohm inscriptions in three different scripts.
The Back side has a tibetan vajra specially hand crafted by buddhist artist with a red coral embedded at the center. Two heart shaped turquoise stones are set at the top and the bottom.
Buddha Sakyamuni represents the power of an enlightened mind and is the Buddha of Healing and Meditation.
The Green Tara is the Buddhist Goddess of Prosperity and Wealth.
A Vajra is a buddhist prayer instrument representing spiritual power.
The Gao item can be hand carried or used as a pendant or even placed in your Buddha corner for well-being.
| | |
| --- | --- |
| GREEN TARA IN TURQUOISE ON FRONT COVER FOR PROSPERITY AND WEALTH. | DOUBLE VAJRA SYMBOL AT BACK SIDE TO CUT OFF EVIL ENERGY FROM ALL DIRECTIONS |
Product Description:
ITEM CODE: BUD001
SAKYAMUNI BUDDHA GAO PIECE WITH TARA.
*Gold plated silver gilded with semi-precious stones*
Length: 02 inches, Breadth: 02 inches.
Price: INR 45,000. (including shipping/delivery charges)
Shipping Time: Fifteen days to One month.
Gift included: A small tibetan prayer wheel with Om mane padme hum mantra in hand spun textile pouch.
*Use the currency converter below for viewing this price in your local currency*
---

---
---