Sangeeta Gurung, Arvind Gurung, Dharamsala Tours & Travels,India Himalayas,Dharamshala Miniguide, Dharamsala Miniguide, Himachal Pradesh,Karma Dharma,India Vacation,Dharamsala India
---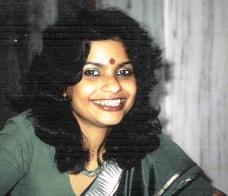 Sangeeta Gurung...
"April 1993, as I first arrived in Dharamsala India..I was surprised to see a road hoarding " Ooh La La...Dharamshala !" From that day on, I have been surprised many times, simply by what this small Dalai Lama abode in Himachal Pradesh in India, can do to my senses and my soul...Dharamsala, Dharamshala..A destination which will always be my passion, my pain and my pleasure !"
July 2007...Mcleodganj, Dharamshala, some where, a Music shop...CD playing in a deep voice 'Tibetan Monk Chant'.. suddenly I see a Tibetan Lama shopkeeper clear the road, stop all of us in our tracks, shoo away a big black tibetan spaniel ! Whats happening??! A small blind shrew-mouse was crossing the road and was being guided and protected by this Lama..! In Dharamsala this compassionate gesture, spoke volumes about the Dalai Lama mentoring in this small Himalayan town of India..! I wanted to share this experience with you from Dharamshala...!!


Sangeeta Gurung
Crossing Barriers, personal growth ! Receiving Dharma blessings at Ghanjar Mahadev in Dharamshala !

Looking back I, Sangeeta Gurung can only remember these moments in Dharamsala India, Dalai Lama Retreat !
Approaching the end of 2005 in Dharamsala India , I get up to the sound of breaking stones near our Himalayan Mountain Home 'Vidya Niwas'in Kandi, 02 Kms from the main town Dharamshala, I found some illegal stone mining going on in the nearby hill and the adjacent waterfall. The hill had already seen years of soil erosion by constant digging by the villagers and taking out these stones would have been dangerous to the neighbourhood. I had to fight hard and take the help of the local administration who tried and finally stopped this mining in Dharamsala.
This was the fourth time I was doing this and I pray it does not happen again as this has been, an ongoing drive from my side to save the fragile Mountain ecology in Dharamsala India.
Our State Government has a good policy on illegal mining, but it has to be implemented right down to the village local authority and the common people, who have to rise, above themselves and save the environment in this town of North India, which hosts the sacred Dharma teachings and Blessings to the whole world by His Holiness the Dalai Lama in Dharamshala.
Dharamshala in Himachal Pradesh, gave me the energy and passion to fight for a cause irrespective of time,financial and practical constraints. This unique experience from Dharamsala, I want to share with all my friends, all over the world...young and old...this special energy which exists in this unusual spiritual Himalayan town of North India !!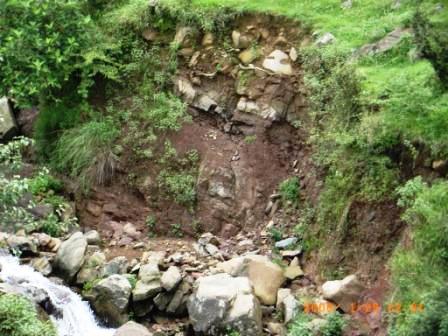 January 2006, Dharamsala India.., I, Sangeeta Gurung have been truly taken by surprise in Dharamsala...I really want to tell the world about this special spiritual energy which touches us everyday in Dharamshala..it is that time of the year in North India, when the flowers are blooming and you can rejuvenate in the warm energy of the Himalayan sunshine kissing the snow covered mountain peaks. A season for sitting around a warm fire hearth with friends and family, enjoying steaming Hot Momos and Fruit desserts flambed with local honey and plum wine!
This website is a small endeavour to expand our global horizons for promoting more International travellers to Dharamshala India.
I hope the Blessings of Buddha in India will bring more Travellers to Dharamshala. Dharamsala will become better in the near future with more Global participation and better Travel infrastructure. There is a lot of sustainable Trends in Dharamsala which are good for the environment and the economy in Dharamshala India. There are many Volunteering activities by different people and associations in the India Himalayas in Dharamsala!
Thought of the Day..Dharamsala India, Dharamshala !
" Most of us talk about morality till the time we don't get a chance to lose it !"
Truly Life begins at Home !
This Dharamsala Miniguide is..for Dharamsala India which has given me a vision and for my children who have been my best mentors!
"I believe there will be days in our lives when we will be defeated in our efforts, but not in our intentions.
I believe there is no bigger 'God' than the one within us.
I believe there is no bigger 'Dharma' than Good 'Karma' and no bigger 'Buddha' than that of Universal Peace. !"..Sangeeta Gurung, Founder, Dharamsala Tours & Travel.
Sangeeta Gurung as a Holiday Designer can best be discovered in my favorite Holiday Program, " Music in the Skies."
If you find our website interesting, then do recommend it to your near and dear ones.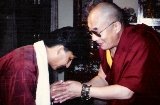 Sangeeta Gurung & Arvind Gurung
When we came to Dharamsala India with my wife, Sangeeta Gurung and my family..I wanted to promote my beautiful home town which inspired me to come back.
During these 20 years as Travel and Hotel professionals in Dharamsala India, we have had many moments of learning in India Himalaya Dharamshala...many moments of satisfaction by the response we got from the International communities. The Sacred Buddhist and Bhagavad 'GITA" Teachings, gave us a lot of inspiration in our 'Tourism' work.
I got a lot of opportunities to travel with my Groups and friends in the INDIA Himalayas ..even to the remote areas of Kinnaur and Spiti and witness the Kalachakra teachings of His Holiness at the 1000 years old Tabo Monastery..to the Hills of Uttranchal to attend the Ganga Arti Ceremonies ! We had to do a lot of research for the intensive Television units from all over the world.
In 'Vidya Niwas'...our Himalayan Home in Dharamsala India, our interest and learning is increasing everyday and we hope we can share this knowledge with our friends around the globe and India from Dharamshala.
"The Buddhist influence in our lives has brought in a lot of happiness and joy to us"...Arvind Gurung, Founder, Dharamsala Tours & Travels.
* About Us - Sangeeta Gurung and Arvind Gurung..
Many a time, we have been asked questions on our religion n faith, our affinity to 'Buddhism' and most of all, whether we have participated in the 'Free Tibet' movement..
Arvind and me are 'Hindu' by religion. It has taught us to respect n honor, every religion in the world and because we believe in 'good karma', 'Buddhism' has been our constant teacher in our life journey.
His Holiness the Dalai Lama's teachings, will always be a source of inspiration for us..a life style Guru. However, our information on the 'Free Tibet" movement is extremely limited and would not justify our participation in the same.
We are not part of any International & National NGO body, Trust, Social Society or Club. We are not members of any religious sect or associated with any particular group of people, as we live in a Global Community, today.
The content of both our websites, on India and Dharamsala, along with the images in them, do not promote, any product or corporate enterprise. They are purely 'informative' websites. The images and the content are merely a 'reflection' of our honest endeavor to reach to a bigger, 'Global Community' which, share the same interests !
As a small commercial enterprise "Dharamsala Tours & Travels", is committed to promoting 'Sustainable Tourism'. The 'cause' most dear to us is, 'Building Bridges' for 'Peace n Prosperity', for all sectors of a Global Society by, bringing into effect, a 'Rotating Universal Economy', in the 21st century !
Our Lifestyle, "Spiritually Energizing Holidays", aspire to promote goodwill and many streams of economy and industry.
We welcome anyone to participate in our 'endeavor', by contacting us 'directly' on our websites..!!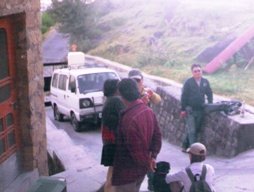 Difficult to say good-bye...with all the shooting crew of Arirang TV from Seoul in Vidya Niwas, Dharamsala in North India ! 25th Oct,2004
Good Karma in Dharamsala India...Arvind feeding the hungry monkeys !!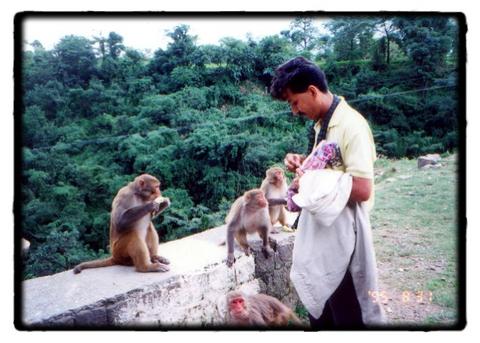 Arvind feeding the monkeys
DHARAMSALA TOURS & TRAVELS..in North India, Dharamshala!
April 1993 in Dharamsala India we realised that both of us had been born in the India Himalayas...I, Sangeeta Gurung in the Holy City of 'Haridwar' and Arvind, my husband, in the hills of 'Chakrata'. Both our birthplaces are in the Hills of Uttarakhand in North India. However we felt that while we were in Nepal for ten to twelve years of our professional lives where we knew so much about the magic of the 'Everest' and the 'Yeti' along with the exotic Himalayan culture of Tibet, we still had to come back to our roots in the India Himalayas to Dharamshala..my hometown !
Our experience in the Travel and Hotel industry helped us to open our small Tour Company - 'Dharamsala Tours & Travels'...which is a 23 year old company recognised by the State Government of Himachal Pradesh in North India, Dharamshala. Initially, we started promoting Dharamshala travel and then Himachal Pradesh, the India Himalayas, Nepal, Bhutan , Tibet. Encouraged by the excellent guest reviews and because there were so many childhood memories of different parts of India , we started organising special "Spiritually Energizing Holidays" for this truly..Incredible Country - India, Dharamsala !
It was challenging for us to open Dharamsala, this town in North India to the International Travel World...although there was a lot of International interest, but there was no organised Tourism. Our first Tour brochure "Buddha 2000 AD" was the beginning of our journey! Looking back there were many memories..there was just two Hotels - Bhagsu Hotel and Hotel Tibet. Over the years, there are many standard Hotels and beautiful Guest Houses around and it has been rewarding teaching them basic Hospitality and Tourism traditions. We grew along with them and now our Tour company has a set of trained buddhist guides, escorts and yoga and meditation instructors who help us.
As a small organisation in Dharamsala India, we are committed to promoting Sustainable Tourism, Social and Cultural community development and local Economy. We also feel greatly responsible for the Fragile Mountain Ecology and the natural Environment.
'Vidya Niwas', our Himalayan home is part of a bigger vision of our Himalayan Initiative to promote Global economy and Green travel!
For Dharamsala India 'Every guest is special!'

Guest Comments from Body & Spirit Group, USA (August, 2005 - Vidya Niwas, Dharamsala India)
"With appreciation with all you have done and provided for us, the peacefulness, joy and scenic beauty of the Himalayas and Sangeeta Gurung's beautiful retreat will live forever in my heart. Namaste" - Linda Kearney
"Dear Sangeeta Gurung, you have provided an incredible place to rest in peace, enjoy great food, tibetan culture and wonderful hospitality. I have much gratitude and thank you" - S. Senshin Steven

During the teachings of His Holiness The Dalai Lama many people from all over the world come to attend it. Today, Dharamsala India has a relatively wider variety of accomodation available from Hotels, Guest Houses, Retreats and Himalayan Homes. It is accessible by air through daily flights, by trains from all parts of India and by road through air-conditioned and standard buses and smaller vehicles.
You can contact us for any services in Dharamsala..Dharamshala OR The Himalayan regions of INDIA, BHUTAN, NEPAL & TIBET, at the following address:
Sangeet Gurung and Arvind Gurung, Founders, Dharamsala Tours and Travels Kandi, Khanyara Road Dharamsala - 176218 Himachal Pradesh India
Land Line Nos: +91-7605087850
Mobile: 91-9816291271,9805802061
Email: dharamsala_tours@yahoo.co.uk
sangeeta@dalai-lama-dharma-dharamsala-miniguide.com
*Booking Terms & Conditions on 'Contact Us' page.
"Your Choice of Spiritual Travel to the India Himalayas !"
Contact Us..Click Here !

Return from Sangeeta Gurung Dharamshala, to Dalai-Lama-Dharma !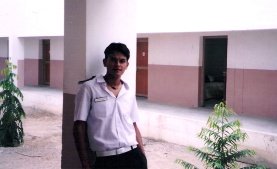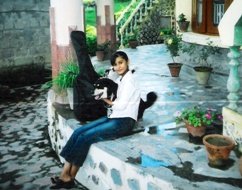 Our Children, Prakram and Naintara..Sangeeta Gurung !

---
" A Hindu Sadhu, A Migrant Beggar & A Tibetan Monk..they all share a common feeling in Dharamsala India !"
"Somewhere in a different Eden, Denial and acceptance live in harmony. A world between the possible and the impossible, Where suffering, spirituality and a soft caress are all Human bondage!"
- Sangeeta Gurung
---
---