Dharamshala Hotels,Dharamsala Hotels,Vidya Niwas Pets,Hotels, Homestays in Mcleodganj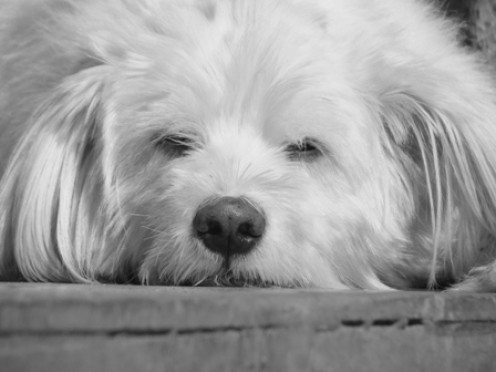 Dharamshala Hotels Pet Dog Bobo !
Dharamshala Hotels,Dharamsala Home Stay,Animal Care Dharamsala,Volunteering India, Dharamsala India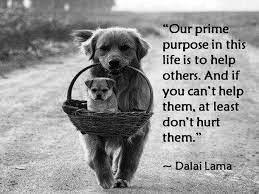 On the 81st Birthday of H.H the Dalai Lama on 6th July 2016, a message for all around the Globe from Dharamshala !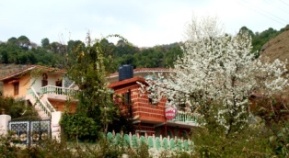 Dharamshala Hotels..Vidya Niwas
Today, our Mountain Home Retreat..Vidya Niwas in Dharamsala India, has many global guests who come and visit us. Truly with them  it is an Universal home  and a reflection of the environmental sharing with all the creatures around us. It is a compassionate  initiative on animal care in Dharamshala as most of the animals have been adopted from the road..
This page on our Vidya Niwas Pets will tell you the stories of each animal who has shared our warmth and hospitality with us. The stories have been told by each of them in their own way. It is also a tribute to the many guests on our Volunteering India program,  who have come here and shared their moments with them..
As you search for your holiday stay in Dharamsala in the wide range of Hotels in Dharamshala..remember there is a warm companion waiting for you to change your life  forever..!
We look forward to seeing you find yourself a new travel experience at Vidya Niwas....even as your holiday program introduces you to new travel friends.
We often start our journey in search of new adventure ...find your holiday surprize here with us !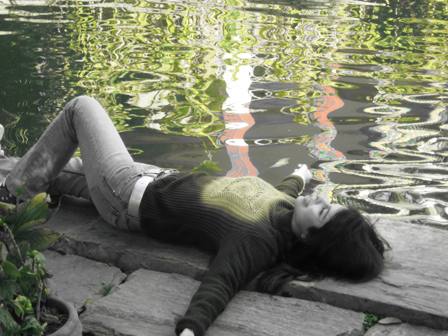 ---
Nature carbon free activities at Vidya Niwas Dharamshala Hotels !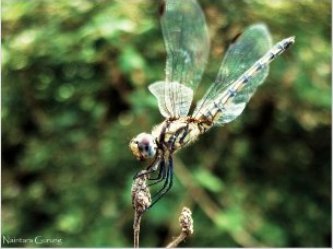 * Yoga and Meditation !
* Retreat n Ayurveda
* Study Tours
* Treks n Camping
* Buddhist Tours
* Cooking nVedic Kitchen
*Volunteering
*Bird Watching n Nature Encounters
*Paragliding in the Mountains
*Mountain Bike Cycle tours.
*Buddha Healing Retreats.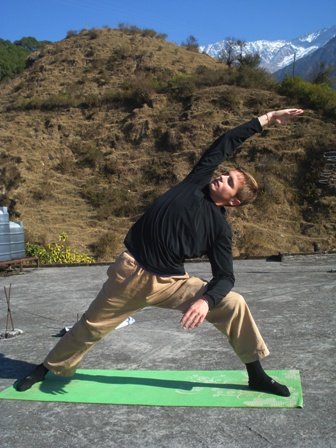 ---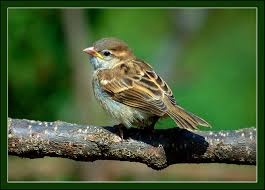 Finding a Home..Tweety's Tale, Vidya Niwas

"It was in the winter of 2009, I was suddenly all alone in this world after the ambush of the night cat...I guess, the law of Nature asks as much for forgiveness as  it does for survival !
In the beginning it was terrible to lose the comfort of a family n flock around you..even the hoot of an owl was terrifying.

But their was in me the growing need to have my own garden of spring..my own space for story  telling.
| | |
| --- | --- |
| My nesting delights could not be left untold. It was obvious, I was a complete stranger to the other sparrow flocks, which although hovered around, but would not accept me. The sky seemed small and I had no home. | |
I discovered Vidya Niwas a small Dharamshala hotel with a small Shiva shrine in the garden. There was near the guava tree a sense of belonging. The Shiva temple became my home n shelter..while the dogs in the house allowed me to share the tit bits and chased away any preying enemies. Soon the ownwers noticed my visits and overnight home stays. Even as my baby fat shredded away, I could see I was secure with my new home..Vidya Niwas, the daily feed which was kept for me..and most of all the crows , the doves, the bul buls n ofcourse the cackling mynas, soon relaised my importance in getting the owners to offer bonanza feed for all of us.
Spring arrived one bright summer morning, the chirping of the love birds, the sudden rush of adreline and I was in search of a mate. I found a pretty girl..Chirpy who seemed as adventurous as me. She was game to nesting at the guava tree of our new home. It was an approved site although not near her own parental flock.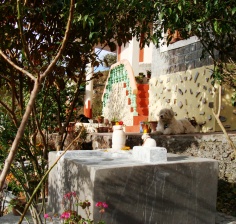 There was a need to be away from this Dharamshala hotel for sometime while thought, process and endeavor was put into the formulation of our nest. The owners were curiuos but asked no questions and instead put in an ample amount of food for us. Soon it was time for me to introduce my own family to them and also say hello to the pets of Vidya Niwas.
Many nesting delights later, I finally became the leader of my new found flock and and matured with my body , mind n soul ! "...Tweety Sparrow..the Cheer Leader.
We all at some moment of our life, need to discover ourselves in our own effort and create our own Paradise !!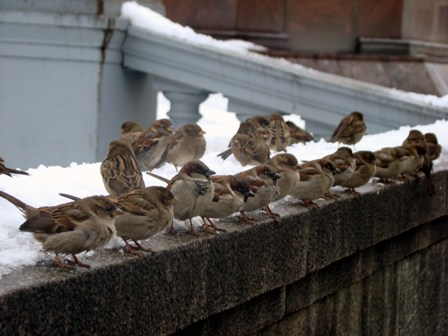 ---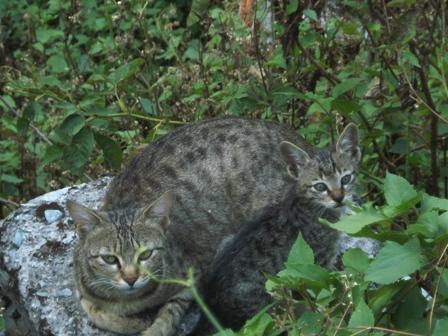 Vidya Niwas Pets.....A Cat Jump to Adoption in Dharamshala Hotels..

Fifi's Joy..!

Till today many of our visiting guests from around the globe stay connected to us asking 
about our pets in Vidya Niwas. This is the story of a wounded kitten 'Fifi' and her walk into our home in her words...
" It was a horrible wet evening when I went hunting with my mother. Dharamsala India,  can be a very resounding experience for a small kitten on a dark cloudy night sprawl..I slipped and with a sudden surge of pain my front leg was sprained and swollen. I took shelter and hid myself under the staircase of what looked like a beautiful Dharamshala hotel...
Soon a car drove by, and the owners got out  and heard my 'meaows'. I was gently taken out and taken care by them. My mother soon discovered where I was and came back to take me. I went happily back with her as I missed her company and the jungle strolls everyday...
However a new chapter in my life had begun. I returned home at Vidya Niwas and although it took a lot of convincing I somehow managed to get my place in the owner's hearts and a home for myself in the Garden. I parked myself near the Shiva temple. The owner's daily gave me milk and bread and wonders of wonders...I got a suitor..Coco who loved me and lived there. Soon our friendship became love..I got two lovely kittens..Sweety and Phudku Singh who are a constant delight to me and the Vidya Niwas family..!
---

Vidya Niwas Pet...Julie's Home at Dharamshala Hotels..
A Jump of Joy..!
Among the moments, most to cherish in Vidya Niwas are those, where the warmth of comfort and affection have taken heart in the pets we have adopted... This is the story of Julie, our pet dog as told by her..!
" Frankly speaking, I will always belong to the streets of Dharamsala as it was my first love where I was born..but, I must say the little master in the Gurung's family was always the top priority in my ever wandering heart. Not only did I learn to jump and laugh with him, I also taught myself to believe that the human heart has its melting point..
I was abandoned on the side of the road hit by a car near a Dharamshala Hotel, on a cold bleak day. I was remembering the small family of migrant labors who, occasionally fed me tea and raw potatoes which I ate with the small children...indeed the parents when they returned from work always were surprised to see the missing potatoes..!
..I was lying there starved with my back leg injured until the Gurungs found me. I was picked by kind hands and taken to their home, where I was almost killed by the home pet dog..Pucchu. That was the time when the little boy took me to his room and gave me hot milk. The mistress next day took me to the hospital and treated the injured leg. I recovered soon and was delighted to know I could run without hurting.
..As I grew big I had no name, Peter Pan dominated my personality as the family would often call me the black pirate with the black eye patch..Captain Hook ! I hated it but as I grew the Mistress said, " I was a pretty girl and called me 'Julie", which I think was a popular Bollywood song. The mystery of this stayed with me for a long time as did my habit of running away from home and stealing potatoes..Imagine my shock when suddenly, as I was discovering a new bush near the house, the tea shop nearby was suddenly blaring my name in a song..I ran home to safety as I was scared.
..However even as all this was happening, I could not still put any pressure on my healing leg and jump high, as I wanted to jump over the front gate..it was still a question mark in the family whether I should be adopted or put back in the street. A difficult decision for the Mistress as the pet dog Pucchu never accepted me...however on the pleas of the children I was finally taken in.. and that day, I jumped high with joy..Vidya Niwas was now my real home.." from the Dairy of Julie.Vidya Niwas Pets, Dharamshala Hotels " !
---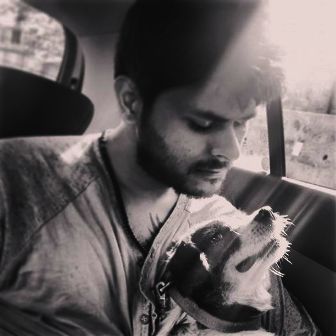 The Beauty of her Smile...
Most of our pets have brought a smile on our faces...This post is from our pet Beauty, in her rare shared moments of learning....
| | |
| --- | --- |
| | Smile is all it takes.." Since long I wanted to be on the road....It spoke to me of adventure, new friendship and discovery. Although my father 'Tabbu', who did not stay with us in the kennels but shared the open space of our owner's house, had told me never to venture out alone, I was eager to take my lessons on my own.   |
Once when I was ill, I was privileged by the loving personal care of my master n mistress. I was taken inside the house where I was carefully treated  back to sound health. At that time since I was in the house I quietly followed my master when he went out of the house..in my mind it was a chance of a lifetime to see the world outside on my own. Imagine my shock when I found myself whisked off the road by some strangers strong hands. 
The household I was taken to, had children who tried to feed me. However I missed my kennel companions and home..I was taken back and left outside the gate of my house since I would not eat anything in the new house. I saw how worried everyone had become after my disappearance. I was thrilled on my own to see everyone and everything as it was..my father scolded me but also comforted me and told me never to try these frolic adventures again..I had learnt a lesson..it was frightening and for me there was never going to be anything more dear than my own sweet kennel and home at Vidya Niwas, Dharamshala Hotels..!"
..Beauty from Vidya Niwas, Dharamsala.
---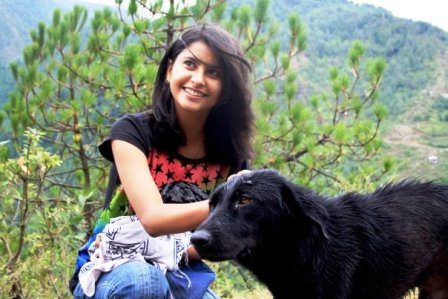 Week Pet Show !
From Dharamshala Hotels, Vidya Niwas Pets...Go to Dharamsala Miniguide Blog Page..!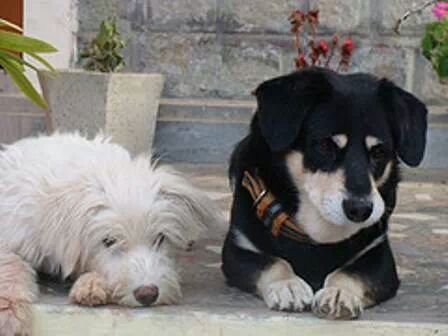 ---
Coming up next...The Tabu n Bobo Show !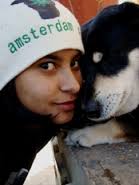 ---
Bon Bon's and Tabu's rapport report !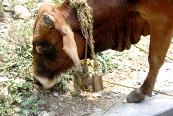 Can any one forget these lovely pets....Snowy and Bozo & Dear Bon Bon !
---
Bobo's smile and Tabu's yawn...the days that were !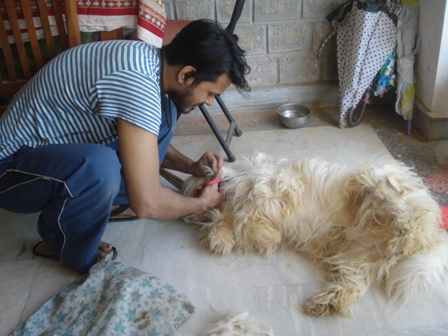 Winter farewell note with a new haircut in Vidya Salon..!
---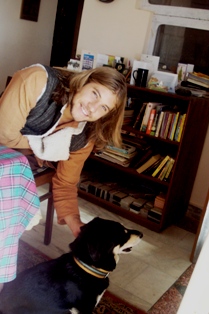 Dharamshala Hotels...The Pets Of Vidya Vibe Club with guests!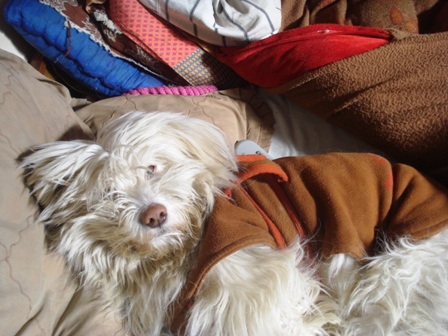 Warming up for the Winter at Vidya Niwas...Bobo makes the initiative..!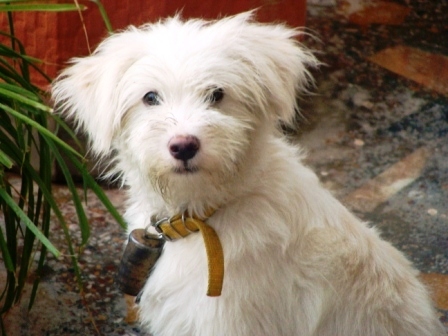 ---
My second day at Vidya Niwas after a good scrub and bath..Bo Bo !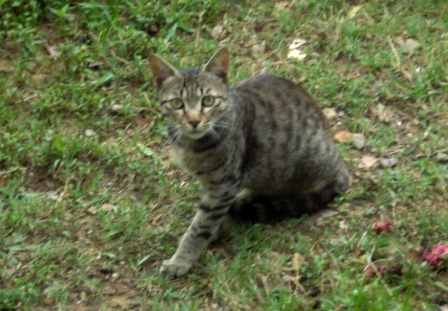 Coco as he came to us...my best cat from the wilds !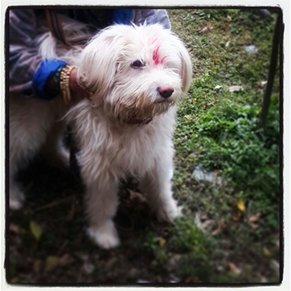 Holi Time with Bobo at Vidya Niwas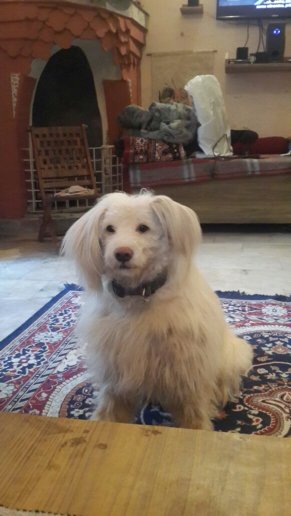 A brand new haircut...fashionable Bobo at his best..!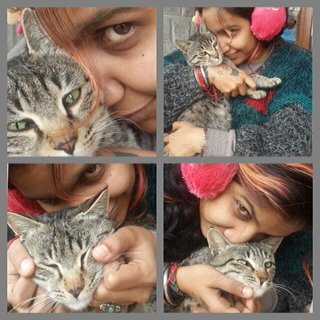 The cat culture of Vidya Niwas..Coco n Sweeta!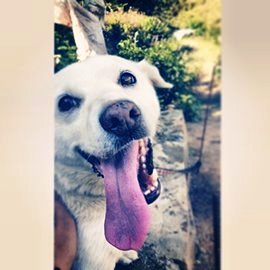 Snowy...the smiling beauty of Vidya Niwas..!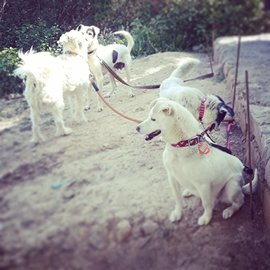 Bobo with Julie, Bouncy and Snowy...Having a morning Chat..!
---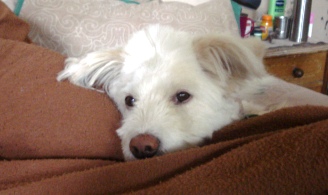 My New Hair Cut..Courtesy my  Chinkoo...!
---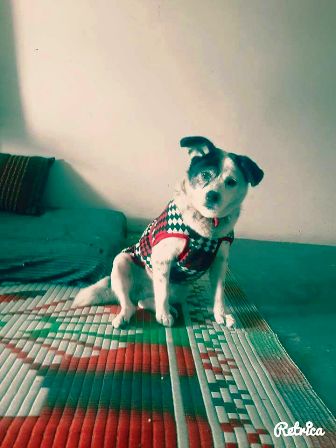 Enjoying the winter sun in my home..Bouncy..!
---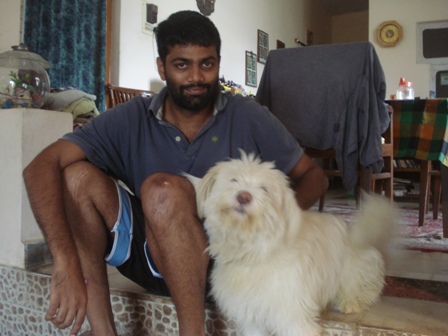 Smile with our guest..Bobo in full swing..!
---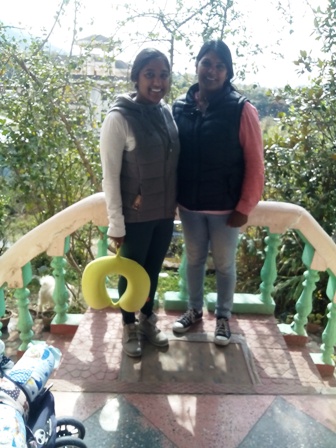 Guests Enjoying the sunshine, green  and the pets in Vidya Niwas..Dharamsala !
---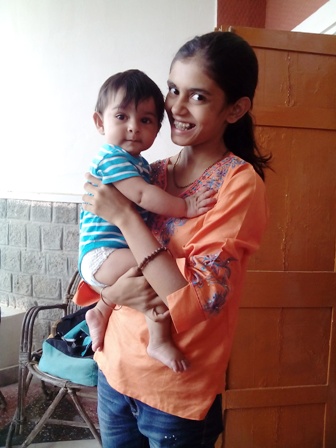 Generations alive at Vidya Niwas...!
---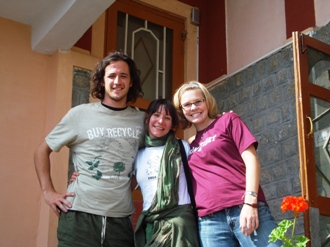 International Guests enjoying the hospitality of Vidya Niwas, Dharamshala..!
---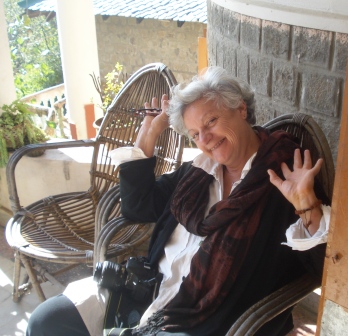 Click the graphic above for Dharamshala Hotels Journey..!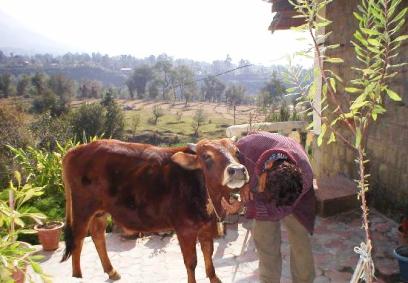 Little bon bon !
---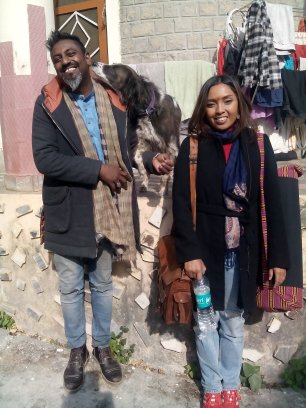 A Special Misty Kiss...!

---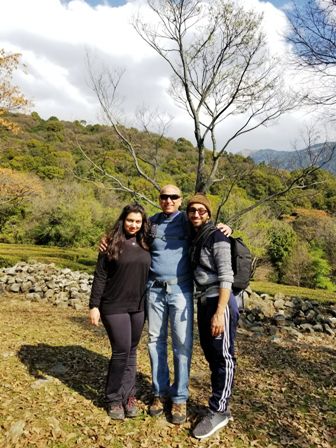 Up in the Himalayas...!
---
A Welcome Good Morning from the Bloom !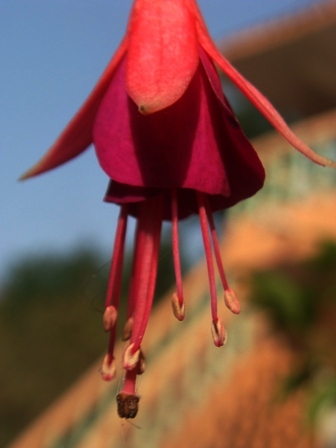 ---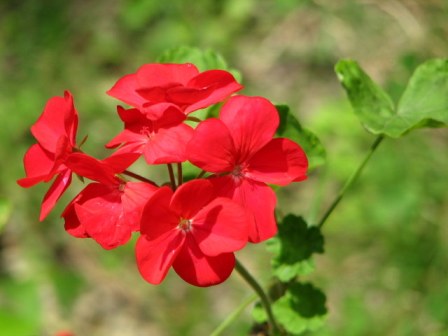 A Winter Call from the Bloom !

---
First day of Miracle 'Coco" !
---
From Dharamshala Hotels return to the Home Page
---