Home Stay Dharamsala, Vidya Niwas, Dharamsala,Dharamshala Home Stay, Dharamsala Hotels, Dalai Lama Home, Dharamsala Guesthouses, Dharamshala Budget Hotels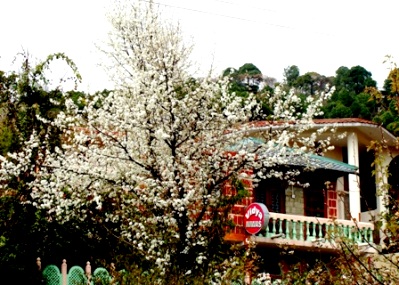 Home Stay Dharamsala..Vidya Niwas
Dharamshala Home Stay..Mountain Home Inn, Dharamshala Hotels
At Vidya Niwas Mountain Retreat Home, the ancient Indian science of "VASTU" has been followed in the architectural design, in the scenic backdrop of the Himalayas, the green pine forest and the natural streams around it. The rooms are reflecting the Himalayan culture of days gone by...The hospitality offers the best in personalized services, vedic kitchen cuisine and healing activities. Sign in for your complete holiday retreat program here.
We organize Vedic Cooking Classes, Outdoor Nature Activities..camping n trekking, Yoga/Meditation and Buddhist Retreat and Healing  and Wellness programs.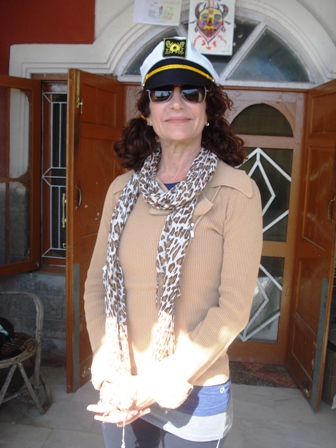 Home Stay Dharamsala, Vidya Niwas
Guest Review... 
"Thank you so much for the delicious food and confortable place to stay. We appreciate the opportunity to see, heal and learn about the area from you. We appreciate how welcome we felt..the perfect balance of love, comfort and space. Love..Stephanie and Mary, 2018.
Home Stay Dharamsala, Vidya Niwas
Guest Review - Lauren
"Thank you for doing all you can to make sure my stay in Dharamsala was nothing short of perfect! I especially appreciate the extra lengths you went to secure me a spot for practicing Yoga. I have very much enjoyed my time in this beautiful part of the world, so thank you very much for making it all that it could be. The food is delicious and I eagerly look forward to seeing your secret recipes."
Home Stay Dharamsala, Vidya Niwas
Guest Review:- Jenny, 27th Sept. 2008,
"What began as a simple internet search for Dharamsala hotels during H.H The Dalai Lama's teachings, has ended up being one of the most calm and cozy experiences I've had while travelling in India. The surrounding sights and sounds, the simple and comfortable room, the AMAZING food and the many conversations with all members of the family has made this stay a refreshing break from the hectic life in Delhi. I'm looking forward to a future return trip to Vidya Niwas with my husband to enjoy it all over again! Many Blessings!"
Guest Review:- Gena(Italy), 9th Oct.2008.
"I was welcomed into this pleasant retreat in Dharamshala with a combination of warmheartedness and professionalism that is so rare to find these days. Great location, exceptionally helpful and friendly family and the very best food INDIA can offer! I will highly recommend Vidya Niwas to all my friends who pass the neighborhood."
*I hope we'll get the chance to meet again before too long. Many,many thanks and all the best.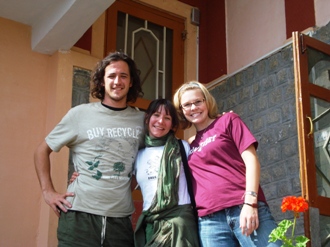 ---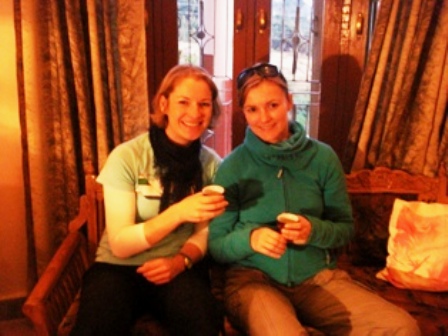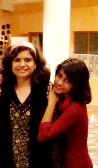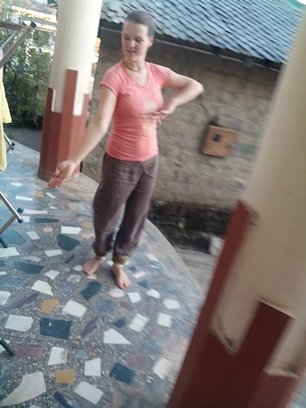 Dharamshala hotels,Home Stay Dharamsala,Vidya Niwas!
Guest Review..Kenro Izu,Nandita,Paul.. (USA/Japan/UK) Oct, 2009.
"Many thanks for the comfortable stay. Thank you for your hospitality. It was a wonderful stay here at one of the best Dharamshala guesthouses."
"First met Sangeeta & Arvind in 2004 have stayed with them on three occasions, recommended them to various friends that have stayed several times. The house is in an ideal location, close enough to Dalai Lama Home. Walking towards their retreat is a quiet and ethnic experience. Good food, and Sangeeta will talk you to death!"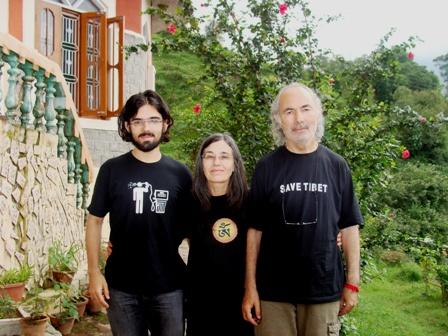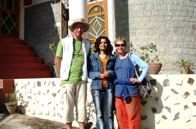 Home Stay Dharamsala, Vidya Niwas, Himachal Pradesh
Guest Review..Ana Ventura,Annik & Eric
" We were enveloped in a warm and family like atmosphere and yet provided with a very prompt and professional service, which very very much pleased us. Many thanks to the always kind hosts. "
" Thank you for your hospitality and politeness. The authentic cuisine for lunch was exotic and tasty. "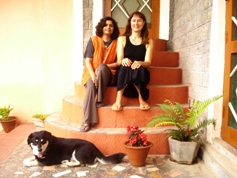 Dharamshala Home Stay, Vidya Niwas
Guest Review..Barbara, Nadin & Alex (Germany/USA) Jul/Aug , 2009.
"Thank you for the wonderful stay! Initially I was looking for budget hotels but I came across your hospitality that was over the top and the food was from the heart. I love your country home and cooking, the dogs and family. I felt very comfortable here and it was a privilege to stay as a friend in your home. The room was beautiful, private and the air was fresh, your company was exclusive. I got a lot of rest and enjoyed McLeod and Norbulingka. In all, this Home Stay Dharamsala, Vidya Niwas is a fantastic and special place for me always. Thank you...!"
" Vidya Niwas was truly amazing with friends, although we never met before. What a wonderful, wonderful home ! Thank you so much for your overwhelming hospitality and the very good conversation we had during our short trip. This was definitely not long enough for such a beautiful place. It is true that we felt 'light' in this place almost stress less. Like I said we wish to come back again and you are always welcome to Munich in our home. Hope to see you again soon wherever it might be. All the best and thanks so much for letting us stay at your Home Stay Dharamsala, Vidya Niwas . "
Home Stay Dharamsala, Vidya Niwas
Guest Review.. Fiona and Paul (USA/UK), Aug/Sep, 2009.
" It was lovely revisiting the fairy tales, long tea sessions and the mushrooms, at Vidya Niwas. Not to forget the exclusive 'touch-me-not' !
" Thank you for all the kindness towards me considering very difficult circumstances. I truely appreciate your sincere love and compassion for animals and all living creatures. I very much hope to spend some good time with you and the family home again. I know Barnie had the best loving home anyone could have wished for. Bobo is incredible ! "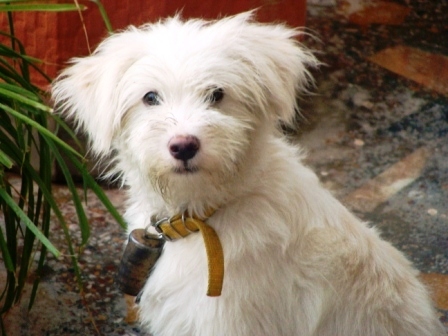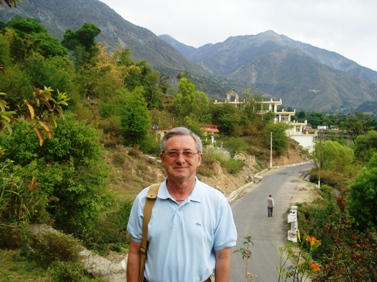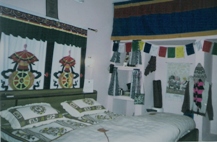 Home Stay Dharamsala, Vidya Niwas
Guest Review.. Nigel and Stephan, Jan/April, 2009.
" What a 'Zanny family', very hard to get a word in edgewise! But wonderful conversations, tonight we put the world on the table. Unique rooms and food. Will make it back again. "
" Thank you for everything. I will miss India and you all. The month I spent with you guys was the best home stay from home and the mountain was priceless. See you again at your Home Stay Dharamsala, Vidya Niwas . "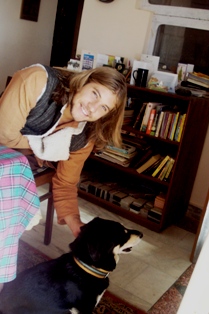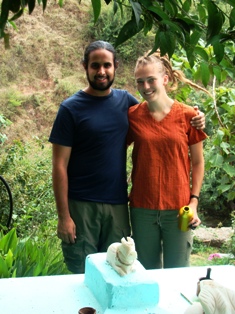 Home Stay Dharamsala, Vidya Niwas
Guest Review..Liz and friends, Jan, 2009.
" I absolutely loved your home ! We had an amazing stay at your house with your beautiful family and food. I look forward to this relationship and friendship. I wish your family and business all the blessings. Thank you for giving us the best of India at your doorstep. Om Namaste, with love. "
Thank you. I love your comfortable Home Stay Dharamsala, Vidya Niwas. I don't want to leave at all, but I want to adventure and see India in all its shades. We will keep in touch. Love.
PS: The Jasmine and food was 'special'!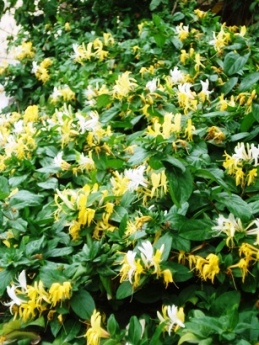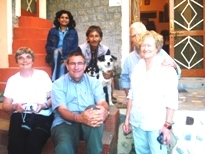 Home Stay Dharamsala, Vidya Niwas
Guest Review..Sue & Tricia Family, Oct 2008.
"A warm welcome has been followed by four days of pure enjoyment.Virtually spectacular, cultivating interesting and a gastronomic delight. It is very hard for us to leave this tranquil place. We have made new friends and look forward to returning in the next distant future. Thank you for your hospitality. "
"We found 'nirvana' here during our stay, thanks also for listening and reading "The Black Swan" . Dharamsala is beautiful and cosmopolitan. " We fully enjoyed Vidya Niwas and the program.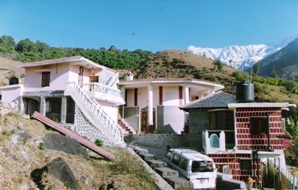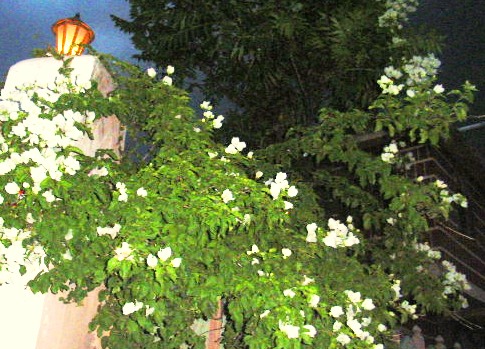 Home Stay Dharamsala, Vidya Niwas Some of my guest's who came in the beginning, nearly two years ago; were surprised by the beautiful flowers and trees which had grown when they came back the second time.

• "Vidya Niwas is the definition of paradise! This retreat nestled in the foothills of the Himalaya far surpassed our expectations. We arrived to a warm greeting and hot tea offered by owners Arvind and Sangeeta and from there things just got better and better. We stayed in the Tibetan room (one of several themed rooms) and really enjoyed the attention to detail as we felt that we were back in Tibet. The room was spacious and immaculate and the bathroom was well appointed and we enjoyed taking hot showers and then drying in the sun on the porch with a mountain backdrop (complete with a glacier). Th highlight of our stay was the arly morning coffee time with the owners and thier daughter where we all discussed current events, took turns brushing the pet bull Barnie and firmed up the day's plans (both Arvind and Sangeeta have years of experience in the travel industry and are well versed at travel in the entire region (India, Nepal, Tibet). After coffee we'd have the first of Sangeeta's three meals all of of which could be on the menu at the world's top restaurants and then headed out for one of the many sights in the region. I simply can'r say enough about Vidya Niwas and I plan to go back to see the people we now call friends! You will go home from this Niwas far "richer" than you were when you arrived and with more Vidya." ---- Mindy Frost

• "I highly recommend Vidya Niwas in Dharamsala, India. From the moment we stepped over the threshold of this remarkable place, we felt at home and exceptionally well cared for. Five guest rooms feature five different cultures (Tibetan, Kangra, etc.). Each room has its own character. We've stayed in two of the rooms, and both were comfortable and homey. Vidya Niwas is set in one of the most beautiful valleys in the world. The Dhauladhar Mountain range rises in snow-capped peaks only a few miles away. Terraced wheat and rice fields grace the valley. You will see green parrots and hoopoes flitting through green trees and hear a stream at night. Arvind and Sangeeta Gurung, hosts at Vidya Niwas, are extremely knowledgeable about Dharamsala, northern India and the Himalayan region of Sikkim, Bhutan, Nepal and Tibet. They believe that travel at its best expands a person's horizons spiritually. If you are interested in knowing more about Dharamsala and other regions of India and Asia, you couldn't find better people to advise you. Sangeeta is an amazing cook. Having eaten in restaurants in India for several months, she produces, hands down, the best food we've had here. Arvind makes a great chapati. Together, they are generous, compassionate members of this community, interested in projects which will benefit the region. I highly recommend Vidya Niwas as a peaceful and energizing place to rest and revitalize your body, mind and spirit." --- Eleanor Lincoln Morse (U.S.A)
The Food got better and better till I realised I was becoming a full time cook !!!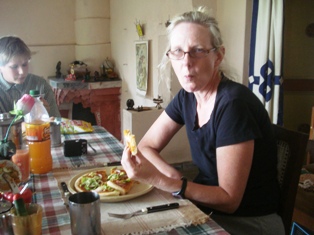 • "We love you so much, we enjoy every minute with your warm hospitality and the best food on this planet you serve us. Thank you for having us. Love and Shalom !!! " -- Dalit and Gyora Inbar, Israel

• "Both Arvind & Sangeeta have treated me like a part of the family. On short notice Sangeeta put together my visit so that I would be able to visit without any obstacles. They greet you with warmth and continously exibit their good hearts. Sangeeta is not only an excellent and efficient businesswoman but also a superb cook. I'm very thankful for this Home Stay Dharamsala, Vidya Niwas and hope to visit you again" -- Catherine Nelson, Virginia

• "It's beautiful, clen and very caring owners. Its beautiful in the morning to see the river. We will come back again for the fresh air." -- Mikhal Levenan, Orion Bat Sheva Israel


• "Peaceful and so kind and friendly! Lots of lovely animals and wonderful food! Looking forward to coming back one day." -- Deborah Giffin, Oxford England
• "Dear Arvind Uncle & Sangeeta Aunty, You have a beautiful home here in Dharamsala. I agree with Freyan- The food is amazing! Tubby is the sweetest dog! Thankyou and God bless you..." -- Shenaya Pochkhanawalla, Mumbai


• "Our host and hostess Arvind and Sangeeta were warm, welcoming and delightful after staying in their beautiful accomadations. We were spoiled and would not have stayed anywhere else in Dharamsala. We went to sleep each night beneath a wondrous star filled sky and awakened to glorious days and beautiful sunny mornings. Many thanks to you for making our stay so special...." --Lisa WiCarlo, LynnLaventhal Sumin Rawal
• MOUNTAIN GROUP- STUDENTS MICHIGAN STATE UNIVERSITY


• "Thanks for your generous hospitality. Hopefully I will make it back to this beautiful area in the near future. You are very lucky to live in such a beautiful state! Enjoy the mountains and stay safe..." -- Joel Anderson Halperin, Michigan


• "This being my first trip to India and to Dharamsala- you have made this a memory that I will never forget, thank you! You have made me feel at home which is amazing because I'm half way around the world from my real home. Thanks again for your hospitality. I look forward to seeing you again in the future!" -- Jackie Collens, Michigan


• "Thank you both for being such gracious, caring hosts. I will be back for a much longer stay in the near future. Namaste" -- Bob Evelsizoirrn,


We have guests from all over the world, one of our Japanese guests left us the following comment.Enjoy It.
More Guest Reviews On Home Stay Dharamsala, Vidya Niwas

• When we first arrived at Vidya Niwas we had been travelling a very long way by car from Amritsar. We arrived later than we had expected and were very tired. Both Sangeeta & Arvind were there to greet us with chai and snacks. They could not have been more welcoming. We said that we may need to change our plans because our friends were in McLeod Ganj proper and they said not to worry – if we had to we could change our plans with no consequence. But first they wanted us to see their Guest House and relax from our long day. After spending time in the busy towns of Dharamsala and McLeod Ganj we were SO HAPPY at the end of the day to come back to Vidya Niwas where we could go out on the roof and stare at the beautiful stars with the snow capped Himalayas in the background. We heard crickets and the little waterfall.
We never changed our hotel plans because we LOVED staying in The Golok Princess room at Home Stay Dharamsala, Vidya Niwas. I felt like I was home. It was so comfortable and it even had a beautiful Buddhist shrine in the room for meditation. Both Sangeeta & Arvind made us beautiful and delicious breakfasts and entertained us with their stories and information about Dharamsala and India. They were both such a wealth of information.
I will never forget this beautiful place and plan on coming back again to stay for a longer time. Sangeeta & Arvind are involved in so many wonderful local projects and have such great access to yoga, meditation, trekking and all activities that I will probably need at least a month next time. Thank you both for being so wonderful! --- Lynn, Mount Kisco, NY USA

• Vidya Niwas proved to be the absolute perfect choice for my friend and me on our unforgetable trip to Dharamsala. I highly recommend this hotel to anyone, especially those who can appreciate a quiet, picturesque escape from the bustling streets of Dharamsala and McLeod Ganj. Arvind and Sangeeta Gurung, the hotel's proprietors, and their daughter Naintara were as sincere, knowledgable, and accomodating of hosts as one could ask for. Arvind and Sangeeta know everything about the region and a quick chat with them in the morning will ensure you make the most of each day on your itinerary. And Naintara will tell you hilarious stories. Their home-cooked, reasonably-priced food is unbelievably delicious so eat as many meals as possible with them. The rooms are comfortable and full of character and the views are breath-taking. For all these reasons and many more, I have absolutely no doubts about staying at Vidya Niwas on my next trip to Dharamsala. Please do yourself a favor and go stay there too. --- Charles Roberts, Kansas City, MO


• Vidya Niwas could not have been a better place for me to stay. After some long days of traveling I was welcomed like a family member with a very nice room, very good food and above all amazing people. Dharamsala was one of the most peaceful and interesting places I have ever been and if I go back it is just as much so to see the family as to revisit the place. If you want a comfortable and peaceful stay along with attaining a vast knowledge of where you are then Vidya Niwas is the perfect place. --- Joey, Colorado,U.S.A


• I spent over one week at Home Stay Dharamsala, Vidya Niwas late last year after being "on the road" in Nepal and Tibet. It was a fantastic place to stay for an R&R.
The rooms are very comfortable, The people are fantastic, and the views are just great. One of the owners was also the chef and prepared all of my meals. Each was very good.
I had a "life changing" experience while there. They have a "pet bull" named Barney that came up on the porch every morning while I was having my morning coffee and wanted to be loved on and petted (Barney thought he was a puppy). Now I cannot eat beef as all I can see are Barney's big brown eyes.
What can I say? I really hope I can return someday and take my family with me. I know they would love the place and the people. I strongly recommend Vidya Niwas to anyone going to the Dharamsala area of India. By the way, Dharamsala is the city nearest the home of the Tibetans and the Dalai Lama so it is also a wonderful destination.
Sincerely, Noah L. Anglin San Jose, CA USA


•Home Stay Dharamsala, Vidya Niwas is an unusual bargain for anyone wishing to make the most of a trip to the Dharamsala region of Himachal Pradesh in northern India. The accommodations are at the head of a valley of terraced wheat and rice paddies, almost within touching distance of the Dhauladhar, the front range of the Himalaya, rising 5000 meters to snow capped peaks and ridges. Within a few kilometers are many centers of Tibetan culture: libraries, monasteries, temples, medical facilities, and the headquarters of His Holiness, the Dalai Lama.
Arvind and Sangeeta Gurung, the hosts of this Home Stay Dharamsala, Vidya Niwas have a deep love for the culture and an in depth knowledge of the region. They both speak excellent English. They made us feel welcome immediately and had helpful suggestions for all of our needs. They have 50 years experience in the hotel and travel business between them, and it shows. I couldn't recommend them more highly. As an added bonus, they can arrange any kind of trek or travel either through email, phone, or on the spot at Vidya Niwas (House of Wisdom/Knowledge). If you want to eat at home, you are in luck. Sangeeta's cooking is better than you'll find in the local restaurants. India is very different and can be overwhelming. Arvind and Sangeeta's help has made our stay much more enjoyable and productive. Vidya Niwas is one of the best, if not the best, place we have found to stay anywhere. -- John, Peaks Island,Maine.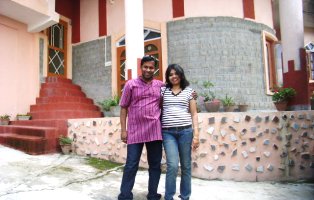 Home Stay Dharamsala...
." Dear Arvind and Sangeeta, We have no words to express our feelings and joy we had staying in your place. The ambience is great and our host were wonderful. The food was exotic ! To sum up it was a soulful expereience and want to have it again and again...Dr. Aradhana, India.
." To add to Aradhana's comments, our decision to go for this homely environment instead of the usual Hotels, has been so very fulfilling. A special word for Sangeeta's cooking which is a treat to the taste buds( Chicken in Kasturi Methi..I'll surely savour). Truly a wholesome expereience...Dr Susmit Sekar, India, June, 2008, Home Stay Dharamsala, Vidya Niwas

---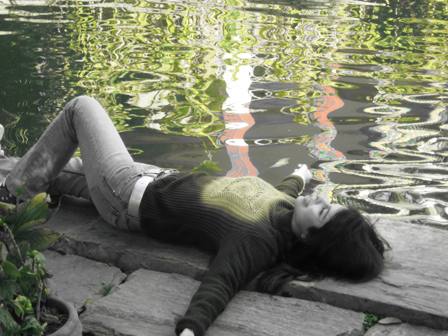 Spiritual Retreat at Vidya Niwas..a life style holiday at Vidya Niwas !
---
Healing Chants at Vidya Niwas !
---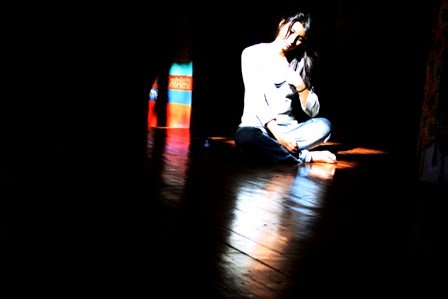 The Many Colors of Life at Vidya Niwas..!
---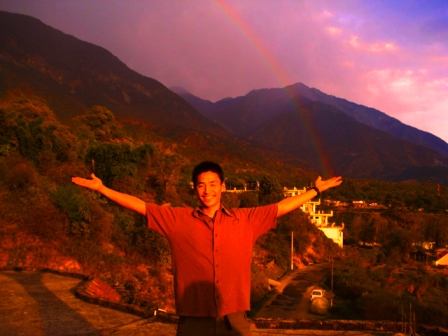 A rainbow in my hands at Vidya Niwas..!
---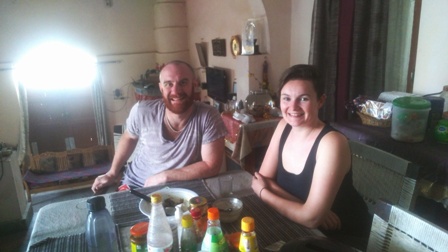 A Smile after Meals in Vidya Niwas..!

---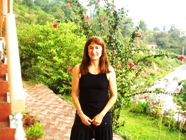 A green Holiday !
---
A Holiday with a Welcome Kiss...!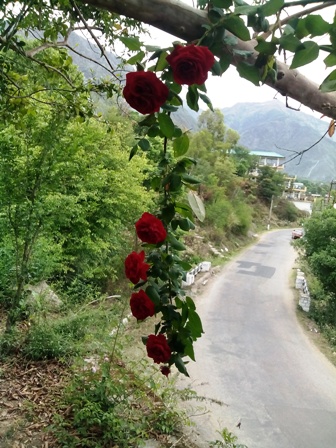 Roses for Solace at Vidya Niwas !

Birthday Blues !
Divinity at Vidya Niwas
---
---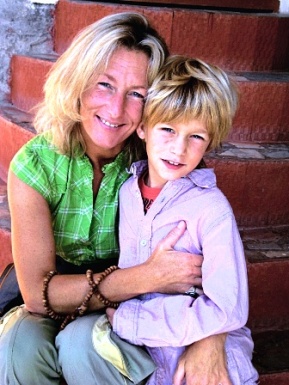 Vidya Niwas Profile...Click Graphic Above..!

From Home Stay Dharamsala Vidya Niwas, Return to Dalai Lama Dharma!!
---