Mouth savouring 'Eating-Out' Experiences in Dharamshala India, Romantic Get-Aways,Dharamsala food, Home-cooked Delicacies, Outdoor Cooking & Picnics In The Himalayas !! Restaurants,wifi cafes,indian dhabas n Chai Shops!
Dharamshala India
Tibetan Momos  and Himalayan Cuisine  at Vidya Niwas..Mountain Home Retreat , are the best way to relish the mountain cuisine while on your visit to Dharamsala...A pleasure for your palate..!
---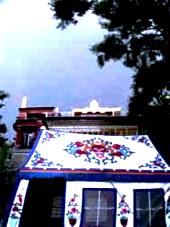 Tibetan Picnic Tents in Dharamsala India...
Eating out is a pleasure for enjoying the scenic outdoors of the Himalayas. The ethenic Gaddi tribe and the Tibetan refugee community both have their roots in a semi-nomadic life style. They would pitch their tents by the river and spend their days swimming, eating and singing songs. The most elaborate of all was the famous Peacock Tent, which was pitched on the Duguthang plain outside Lhasa to welcome the 14th Dalai Lama to Lhasa, on his arrival from his native Amdo.
The 'ghur' is made of heavy cotton and copiously decorated with appliquéd designs. If you can be a part of an outdoor picnic with the Tibetans and the Monks..it is the most unique and relaxing holiday experience of eating out.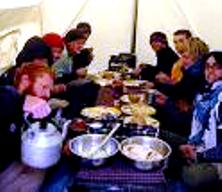 Dharamshala India...Camping and eating out
Outdoor Cooking in Dharamshala India...
The ethenic semi-nomads of Himachal Pradesh..the Gaddis and the Gujjars are travelling gypsies and their outdoor lifestyle in the mountains seems like a never ending 'picnic'! It is fun to holiday in the Hills and indulge yourself in laughter, togetherness, adventure and try your hand in fine cooking.
It can be an exciting soft mountain trek, a nature walk for some or fun family cooking around the charcoal grill. An evening bon-fire is an added delight for those who love the warmth and herbal chai with mountain tales and singing all around ! Be a part of this very 'special mountain experience'!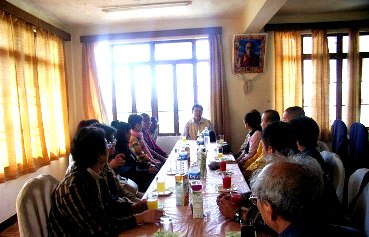 Home catering,on order party food!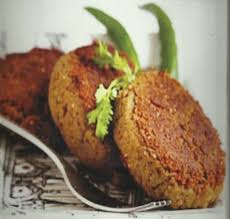 For a very special treat of chicken,lamb and vegetarian kebabs and DumPukt Party cuisine contact us at Vidya Niwas...Le Kebab Shop ! Minimum one day advance notice for placing order .
---
Dharamshala India food,Dharamshala street food !
Chai..Hot MOMOS and Coffee Table tete a tete'in Dharamshala India !
You can stroll around wayside hospitality..local Kangra Chai, Butter Tea or a round of instant coffee in open cafes and himalayan tea shops. Snacking and relaxed reading or conversations is a way of life here.Enjoy the street food of Dharamsala.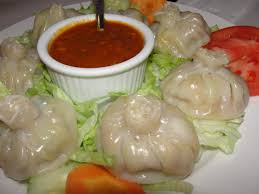 Authentic Tibetan Food in Dharamshala India..
Whether it is the exotic Sherpa Boat -'Gyakok', Tibetan Tingmo or simple 'Thukpa' and steamed Momos...the Himalayan flavours of Tibetan food can be discovered in the nooks and corners of Dharamsala town at various restuarants like Om, Pema Thang, Shangrila, Sherpa House and Cafes. It can suit every pallete and pocketThe Tibetan community loves to cook and often you will see their cuisine flavors have influenced our our local kitchen and vice versa.Many street vendors will be selling momos and soup.
Discovering Asian and European delights in Dharamshala India..
"Susanne takes you down to her place near the river..and she feeds you tea and oranges..!" (Leonard Cohen)
Walking down the lanes of Mcleodganj in Dharamsala, listening to the 60s-70s lyrics..you can explore the different tastes of the world in this mystical small town. Whether it is 'organic herbal green & grain salads' at Lhasa resturant or Pure Vegetable food at Japanese restaurants, the pleasure of eating out is fun filled gossips and smiling monks.. Savour Italian, Korean, Thai, Chinese, Continental, Indian Vaishnav Khana..and even a taste of Israeli cuisine !! Tibetan Food is a must in your trip.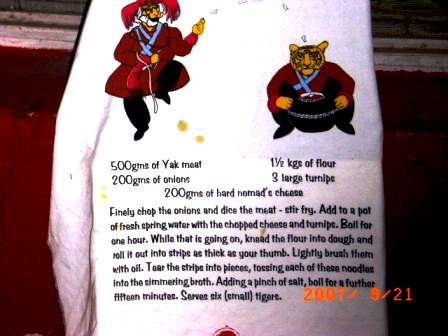 Holidaying with Pets in Dharamsala..
From 'celebrities' to long-stay holidaying tourists, one can enjoy the company of their pets with special menu and homes for them.
"Enjoy with your Bow-Wows in the Himalayas!"
Special birthday cakes for pets and packed meals can be provided from Vidya Niwas for your pets.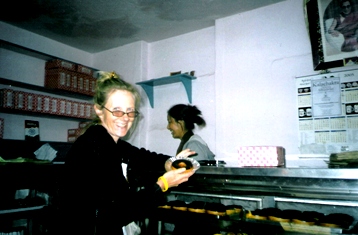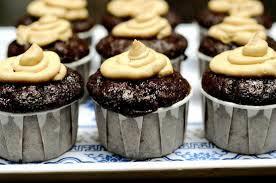 Explore the Himalayan Bakeries in Dharamshala India..
Discover exciting home-made bakeries and tibetan delights when you stroll through the lanes in Dharamsala. You can find freshly baked breakfast rolls ,brown bread, crossiants, dough-nuts. For the sweet tooth take a bite of Fresh Apple Pies, Black & White Forests, cookies...!!
Vidya Niwas dining in Dharamshala India..
" 09 December, 2005......Our stomachs are so full from a wonderful dinner that it is difficult to concentrate !! Thank you for your great hospitality and for sharing your wonderful home with us. It has been wonderful to be woken up by the sunrise & the clinking of Barnie the cow's bell. I will most certainly be emailing and begging for recipes ! The fact that Mark ate & enjoyed spinach soup is a cullinary miracle. We look forward to coming back. Peace and good health and joy to you. " Kate and Mark Mance, New York, USA.
Cullinary Delights of Vidya Niwas in Dharamshala India..
Dining and cooking experience at our home..Vidya Niwas is as much a pleasure for our dear guests as it is for us to cook a meal for them.
For more on 'Vidya Niwas'... Dharamshala India ,Click here to discover..!!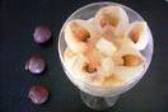 From the Kitchen of Vidya Niwas in Dharamshala, India..
It has always been difficult for me to give recipes of my special dishes, as cooking for me is more a capturing of a mood and just enjoying the sheer comapany of my guests. How ever try this one in your home..!!
Chilled Lychees with Hot Rum and Blackberry & Raisin Sauce
Take some freshly pealed and chilled Lychees in a bowl. Make some wild himalayan blackberries, local honey with cinnamom & nutmeg sauce. Pour the sauce on the Lychees and flambe' it on the table with a dash of Hot Rum or Brandy. Garnish with black raisins and green mint leaves.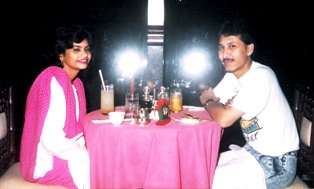 " Approach Love and Cooking with reckless abandon..!! "
..His Holiness the Dalai Lama
For more on Dalai Lama, Dharamsala India...!!