Divine Buddha on Lotus Throne
BS020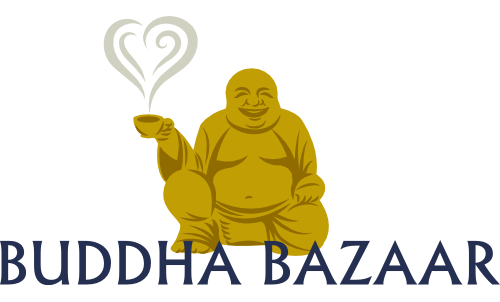 Shop for Instant Nirwana..!
ITEM CODE: BS020

DIVINE BUDDHA ON LOTUS THRONE.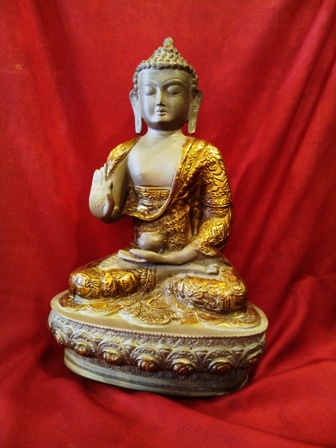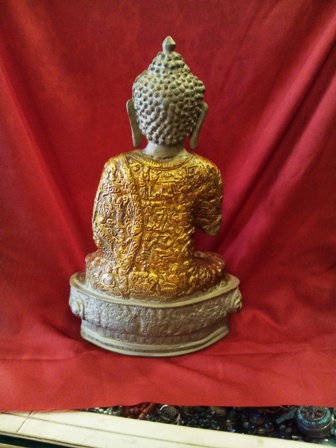 Divine Buddha...Product Detail !
IN OUR BUDDHA STATUE SHOP, INDIA; FIND THIS UNIQUE 14 INCHES DIVINE BLESSING BUDDHA IDOL IN PURE SCULPTED BRONZE WITH SLATE STONE FINISH.

BUY BUDDHA STATUE, PRODUCT NO. BS020 FROM OUR BUDDHA BAZAAR, DHARAMSHALA. BROWSE FROM OUR COLLECTION OF BUDDHA IDOLS INDIA.
Product no. BS020 is a finely carved, hand made Blessing  Buddha Statue in bronze with a slate tone  finish embellished with a hand carved golden shawl
A rare piece in our Buddha Statue Shop, the monastic garb of the Buddha is embellished with intricate hand carving reflecting the artistry of Indian Art.
In our unique range of hand-crafted Buddha Idols India, this 14 inches figurine in Buddha Bazaar represents the auspicious Buddha (or Avalokitesvara in Tibetan). He holds the bowl of alms in his left hand which symbolizes the nourishment of the soul and blessing with his right hand.
The practice of the Blessing Buddha on his lotus throne is used for initiating the spiritual powers of the Buddha in your life. The Buddha Idol can be placed in a prayer altar in your home or in your garden from where it will radiate its healing powers for oneself and for others. The meditation of this Buddha can help you with good health & prosperity or healing of physical illnesses and purification of negative karma. 
It increases your power of concentration by radiating a positive flow of spiritual energy in your body.
Buy Buddha Statue, BS020,  to usher good health & prosperity in your life.
Product Description:
ITEM CODE: BS020 BLESSING BUDDHA ON THRONE.
*Fine Bronze with Slate Tone Finish, hand-made*
Height: 14 inches, Length: 07 inches.
Price: INR 24,800. (including shipping/delivery charges)
Shipping Time: Fifteen days to One month.
Gift included: Special Buddhist Incense Sticks.
*Use the currency converter below for viewing this price in your local currency*
---

---
---