Activities-Dharamsala, Dharamshala Activities,
volunteering,yoga meditation !
Activities-Dharamsala

Day and Overnite treks, camping, outdoor excursions, Nature studies and Bird Watching. Pony treks,Para-Gliding and other adventure activites are also available. 
Activities-Dharamsala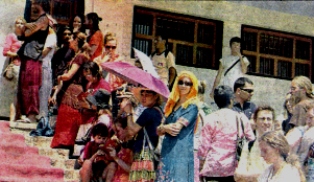 See the Teaching Schedule of his H.H The Dalai Lama in Dharamsala !
03-05th October, 2019
04th-06th November, 2019
9th March 2020
Contact Us !
---
Event BUZZ...
The Snow in the mountains invites a date on the calender.
21st April 2019...Bir Half Marathon Run
 Activities-Dharamsala
Jan/ April/ 2020...De-Stress Retreats @ Vidya Niwas
---
Activities Dharamsala...
Drift presents ' The Legend of ILA a 'story in song' at Kashmir House at 6.30 pm , Sunday 22nd Sep , 2019.


---
Activities Dharamsala...
Holi..the Festival of Colors is from 20th-21st March, 2019.
Diwali..the Festival of Lights is on 27th Oct, 2019.
Activities Dharamsala

Yoga, Meditation, Ayurveda and other Spiritual Activities are ideal in the scenic backdrop of the Himalayas.




Volunteering, Community Interaction, Cooking Classes and Healing Workshops are trending with all tourists here in Dharamsala.



| | |
| --- | --- |
| | Sightseeings of ancient Hindu shrines, Buddhist Monasteries, Ashrams, Old Forts n Museum, Tea Gardens n Waterfalls are popular. |
| | |
| --- | --- |
| | Dalai Lama teachings, audiences with high Lamas, Astrology charts and spiritual studies can be the highlight of your holidays here. |
---
Activity for the Week !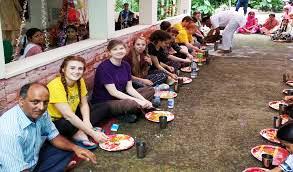 With the Maha Shiv Ratri Festival on 21st Feb, 2020 it is time to enjoy the famous Kangri Dham in local temples and shrines with the winter sunshine as the host !
---
Every year we have the International Film Festival in Dharamshala,in the scenic backdrop of the Himalayas !The snow peaks can inspire many an artist...siting around a cosy bon fire.

If you are planning a date with the outdoor muse than let the mountain chill teach you how to light a camp fire under a star lit sky !

The Moon will tell you its own story !



---
| | |
| --- | --- |
| | Movies can be enjoyed at Gold Cinema Hall at MaxiMus Mall ! |
---

The many shopping delights of Dharamsala ! Cozy up in a Himachali Shawl !
---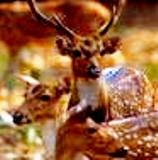 Visit the surrounds of an Ayurvedic Garden and Himalayan Animal Habitat at the Deer Park !
---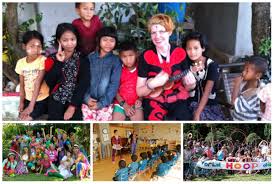 Theatre Festival for all to enjoy ! 
Healing Buddha Meditation Retreat with Mantra Chants...!
  www.dalai-lama-dharma-dharamsala-miniguide.com/Buddha-Statues.html
---