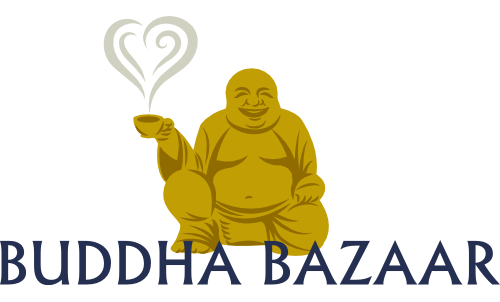 Shop for Instant Nirvana !!!
BUD002
Tiger Eye Buddha,Dharamshala Miniguide, Dharamsala Miniguide, Buddha Amitava,Buddha Statues, Buy Online,Buddha Bazaar,Buddha Idols,Online Store,Sakyamuni Buddha,Cheap Buddha Statues 
---
ITEM CODE: BUD002
Tiger Eye Buddha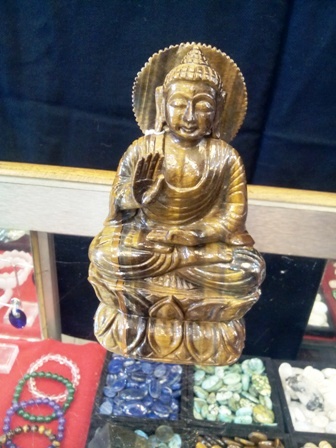 TIGER EYE BUDDHA STATUE
Blessing Buddha at Buddha Bazaar !
TIGER EYE BUDDHA STATUE
Product No BUD002, is the statue of Tiger Eye Blessing Buddha  (also known as Buddha of Luck) symbolizing long-life, good health and healing.
This Sakyamuni Buddha Statue is a pure precious tiger eye stone Buddha Idol , hand made and carved by our  Buddhist artist at Buddha Bazaar.
The Buddha Amitava figurine is shown with his upraised palm in a  Blessing Mudra. This statue on sale,  in our online store is shown blessing the universe for long life and prosperity. Keeping the statue in your home will bring you Good Vision, Radiant Energy and Spiritual Contentment. You can keep it in your own Buddha Shrine with seven bowls of water in front of the Idol. Your Buddha is divine. Offer your prayers everyday with  burning incense and Buddha chants of, " OM MANE PADME HUM "
He is shown on lotus seat with a hand-crafted tibetan buddha crown. In our Dharamshala Miniguide this is a unique buy for your Buddhist shrine at home or on your Office table.
Complete your spiritual journey in Dharamsala Miniguide by completing your Buddha Shrine in your house or garden of flowers. You can buy other Buddhist Idols like Green Tara, White Tara Statues, Manjushri Buddha, Medicine Buddha, Zambala the Lord of Prosperity, Guru Rimpoche Padmasambhava etc. Place them in your sacred altar from Buddha Bazaar along with seven water copper  bowls, a prayer stupa, Prayer flags, Bell and Vajra, Butter lamps and your own hand crafted prayer wheels. Precious collectible items like hand painted thangkas, wall hangings, semi-precious stone ornamented holy conch with sacred Buddhist scriptures are also kept beside your shrine.
Product Description:
ITEM CODE: BUD002
LUCKY TIGER EYE BUDDHA STATUE
*Gold plated bronze figurine hand made and carved*
Height: 06 inches, Length: 03 inches.
Price: INR 30,000. (including shipping/delivery charges)
Shipping Time: Fifteen days to One month.
Gift included: Healing Incense
*Use the currency converter to view this price in your local currency.*
---

---
For an exclusive gift of Buddha Statues for your loved ones , click the graphic above !
---