BUD003 Medicine Buddha Idol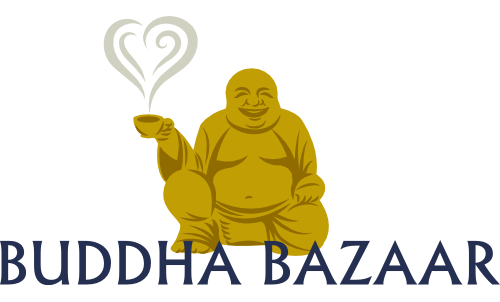 Shop for Instant Nirvana !!!
BUD003 Medicine Buddha Idol
---
ITEM CODE: BUD003
BUD003 Medicine Buddha Idol
BUD003 MEDICINE BUDDHA IDOL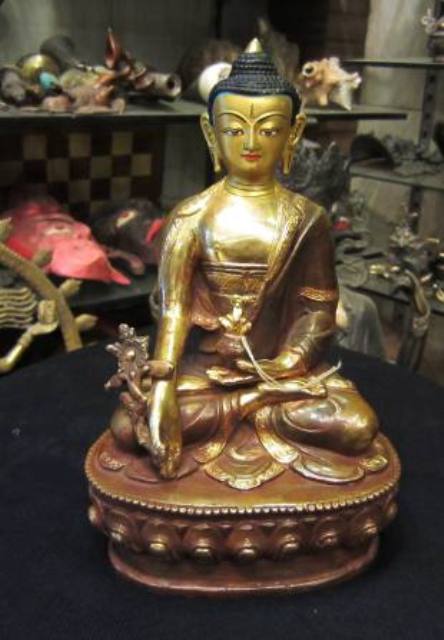 Product No BUD003, The Medicine Buddha Idol, is the statue of Buddha (also known as Sang-rgyas-sman-Lha) symbolizing good health and healing with ancient tibetan herbs and meditation.
The statue is a gold gilded multi-shaded bronze cast Buddha figurine, on lotus seat. It is hand made and carved by our Buddha Bazaar artist, a vision of the artist himself.The Medicine Buddha statue is in the ancient tradition of gold illuminated face with herbs and vase in the hand.
Available for online shopping, the Buddha is shown, holding a healing vase in one hand and in the other holding the natural herbs for healing.
He is shown on lotus seat and among our Buddha statues and Buddha idols, this Buddha figurine stands out as a unique perception of hand carved Buddhist art. The statue flows with Radiant Energy and you can keep it in your home in your Buddha Altar with seven bowls of Holy Water. You can offer prayers with burning incense and Buddha Chant, " OM MANE PADME HUM" !
Repeat this chant at least 11 times morning and evening. The Buddha will bless you with Long Life and Good Health.
Product Description:
ITEM CODE: BUD003
BUD003 MEDICINE BUDDHA IDOL
*Gold gilded multi shade bronze cast Buddha on Lotus throne*
Height: 09 inches, Length: 06 inches.
Price: INR 16000. (including shipping/delivery charges)
Shipping Time: Fifteen days to One month.
Gift included: A small tibetan prayer wheel with Om mane padme hum mantra.
*Use the currency converter to view this price in your local currency.*
For inserting a specially priced Healing Mantra Scroll (blessed by a High Lama) in the statue. (Item Code: BUD003S)
Price (inclusive of Buddha statue and Mantra Scroll): INR 22000.
---

---