BUD007, Buddha under Bodhi Tree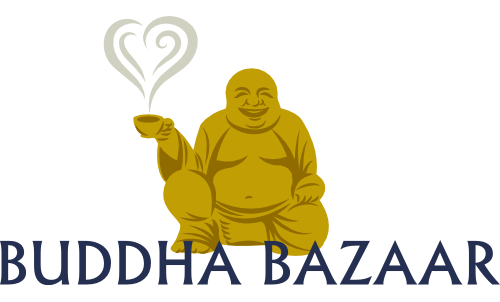 Shop for "Instant Nirvana"
BUD007
Buddha Under Bodhi Tree
BUD007,BUDDHA MEDITATING UNDER ANCIENT BODHI TREE IN SEARCH OF ENLIGHTENMENT,BUDDHA STATUES,TARA STATUES,BUDDHA IDOLS,BUDDHA BAZAAR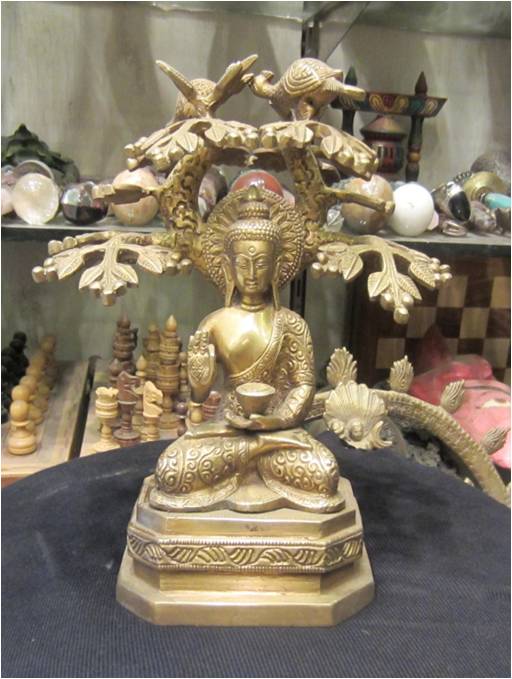 ---
MEDITATION BLESSING BUDDHA UNDER A BODHI TREE
Product No BUD007, is the statue of Meditation Blessing Buddha under a Bodhi Tree  (also known as Buddha of Wisdom and Prosperity) symbolizing long-life, good health and healing.
The statue is a pure precious brass  figurine, hand made and carved by our Buddhist artist in Buddha Bazaar
The Buddha is shown with his upraised palm in a  Blessing Mudra; blessing the universe for long life and prosperity. Keeping the statue in your home will bring you Good Vision, Radiant Energy and Spiritual Contentment. You can keep it in your own Buddha Shrine with seven bowls of water in front. Your Buddha is divine. Offer your prayers everyday with  burning incense and Buddha chants of, " OM MANE PADME HUM "
He is shown on lotus seat with a hand-crafted Enlightened tibetan buddha hal symbolizing his State of Nirvana which he attained in Bodhgaya Bihar under a Bodhi Tree. He was named Sakyamuni Buddha after this. This means the Saint of the Sakyamuni tribe to whcih he was born in Lumbini Nepal.
Compliment your buy with Tibetan Incense and box and complete your Buddha Shrine at home or in office with various Buddhist prayer items like- prayer wheels, prayer beads, prayer flags, stupa, buddha altar, altar cushion and cloth, etc.
The artist in Buddha Bazaar has made this statue during the divine month of Losar ( Buddhist New Year). He recommends the insertion of the Holy Scroll with mantras by the High Lamas for spiritual activation of the Buddha. This will radiate positive Energies in your home.
BUD007: BUDDHA UNDER BODHI TREE
Product Details:
*Blessing Buddha statue cast in bronze with gold plating, meditating under a Bodhi Tree.*
Size: Height: 10 inches  Length: 05 inches
Price: INR 23,000. (including Shipping and Delivery charges)
Delivery Time: 15 days to 1 month.
Gift : Incense
For inserting a specially priced Buddhist Enlightenment Mantra Scroll within the statue(blessed by a Holy High Monk), (BUD007S):
Price: INR 24,500. (inclusive of Statue and Scroll)
*To check these prices in your local currency, use our currency converter below*
---

---